Kilkenny lead the way in Camogie All-Star selections as Walsh is crowned POTY
November 27, 2022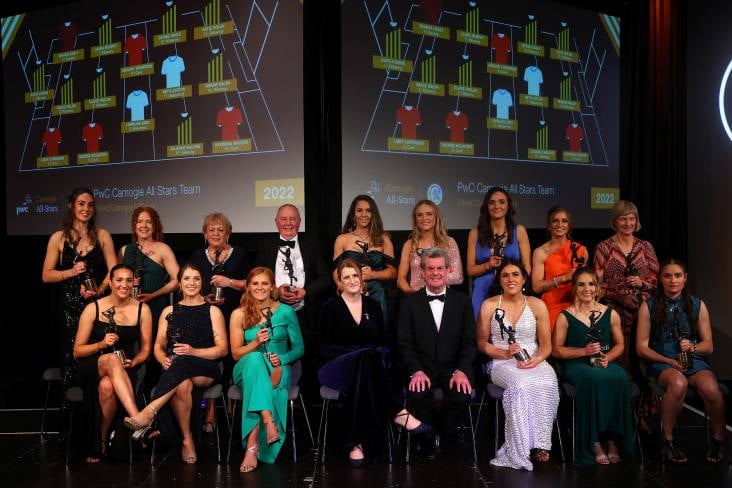 2022 Camogie All-Star team with Hilda Breslin & PWC's Markets Partner Feargal O'Rourke
All-Ireland Senior champions Kilkenny dominate the 2022 PwC Camogie All-Stars team after capturing the O'Duffy Cup for a fifteenth time. Taking eight places on the team, the 2022 PwC Camogie All-Star selection was announced by Marie Crowe, at a ceremony in Croke Park on Saturday 26th November.
Amongst the All-Stars recipients for the All-Ireland champions, were first time winners Aoife Norris as goalkeeper and half-back Laura Murphy. In defence for Kilkenny, Grace Walsh and Claire Phelan picked up their third All-Star wins.
The Cats half-forward duo of Julianne Malone and Denise Gaule also picked up awards, with Denise Gaule having previously taken her place on the All-Star team in 2016, 2018, 2019, 2020 and 2021.
Katie Nolan took her place in the 2022 line-up in corner-forward position, with Miriam Walsh joining as full-forward for Kilkenny.
Cork were awarded four positions on the 2022 PwC Camogie All-Stars team from their ten nominations. Libby Coppinger in corner-back, with Saoirse McCarthy as half-back, Ashling Thompson in mid-field and Katriona Mackey completing Cork's All-Star winners in corner-forward.
Waterford's Captain Lorraine Bray and Beth Carton were awarded the mid-field and centre-forward positions respectively, with Galway's Shauna Healy completing the 2022 PwC Camogie All-Stars line up in corner back.
Kilkenny Manager Brian Dowling was named as PwC Camogie Manager of the Year for the second time having guided the Cats to All-Ireland victory in 2020 and 2022.
Miriam Walsh also collected the PwC GPA Camogie Senior Player of the Year award for Kilkenny, with Lisa Casserly of Galway the recipient of the Intermediate accolade, whilst Antrim's Dervla Cosgrove was chosen for the Premier Junior Player of the Year. All three were selected after voting by intercounty players through the GPA, with the awards sponsored by PwC.
All-Ireland Intermediate champions Galway lead the 2022 PwC Camogie Soaring Stars represented by seven players: defenders Ciara Hickey, Clara Donohue, Katie Manning and Lisa Casserly on the back line. Jennifer Hughes took her position in midfield, with forwards Katie Gilchrist and Niamh McPeake completing Galway's selection.
Runners up in the Intermediate Championship Cork took home three Soaring Stars, with Ashling Moloney (full-back), Joanne Casey (half-forward) and Lauren Homan in left corner-forward.
All-Ireland Premier Junior Champions Antrim also took home three Soaring Stars with goalie, Aine Graham, Emma Laverty in mid-field and Dervla Cosgrove as corner-forward.
Aoife Minogue of Meath and Gráinne McNicholl complete the Soaring Stars line-up in the half-forward and half back positions.
Speaking at the event Camogie Association President Hilda Breslin said:
"Congratulations to all the PwC Camogie All-Star and Soaring Star Award recipients for 2022. It is a huge achievement to be recognised for your performances at the highest level and I hope tonight's achievements inspire you and future generations to continue to light the way for our sport. I would like to commend the Camogie All Stars Committee for their hard work and dedication spending each weekend visiting matches throughout the country.
I would like to welcome PwC to the Camogie family and thank them for their hard work and support in ensuring our successful celebrations tonight. Thanks to the GPA who continue to co-sponsor the Camogie Player of the Year Awards. I congratulate Miriam Walsh, Lisa Casserly, Dervla Cosgrove for their success and to the nominees in each of our Senior, Intermediate and Premier Junior Championships. To be recognised and voted for by your peers is an enormous honour.
Congratulations to Brian Dowling for his second time win for Kilkenny in the last three years and indeed his second win as Camogie Manager of the Year."
Speaking on behalf of PwC, Feargal O'Rourke, Managing Partner, said:
"On behalf of everyone at PwC, sincere congratulations to all the winners of the 2022 PwC Camogie All-Stars, Soaring Stars and Manager of the Year Awards and the PwC GPA Camogie Player of the Year Awards.
Their superb performances throughout the season see them as truly deserving winners, a fitting reward for the commitment and dedication they demonstrate, while also inspiring younger generations. All-Stars are not only outstanding individual players, but also integral parts of the teams they play for. Their core values, such as determination and teamwork, are held closely at PwC."
Speaking on behalf of the GPA , National Executive Committee Co-Chair, Maria Kinsella said:-
"To all the PwC Camogie All-Star winners, massive congratulations. These awards are the highest individual honours you can achieve in camogie and each and every one of you should be very proud of being selected and of your performances in 2022.
Our games are all about what you can do as part of a team, but there is still a very special place for honouring individual excellence. Miriam, Lisa and Dervla have demonstrated the highest levels of skill, dedication, and teamwork throughout 2022 and are very worthy winners of the Player of the Year Awards. They should be especially proud of their achievements given that they were selected by their fellow players.
My thanks to PwC who are leading the way when it comes to equality within Gaelic games given their backing for both the male and female codes. Thank you also to the Camogie Association for celebrating the inter-county game with these awards. We look forward to continuing to partner with you on the Player of the Year Awards and to further strengthening our relationship into the future."
2022 PWC CAMOGIE ALL-STARS
1. Aoife Norris (Kilkenny)
2. Libby Coppinger (Cork)
3. Grace Walsh (Kilkenny)
4. Shauna Healy (Galway)
5. Laura Murphy (Kilkenny)
6. Claire Phelan (Kilkenny)
7. Saoirse McCarthy (Cork)
8. Ashling Thompson (Cork)
9. Lorraine Bray (Waterford)
10. Denise Gaule (Kilkenny)
11. Beth Carton (Waterford)
12. Julianne Malone (Kilkenny)
13. Katie Nolan (Kilkenny)
14. Miriam Walsh (Kilkenny)
15. Katriona Mackey (Cork)
PwC Soaring Stars 2022
1. Áine Graham (Antrim)
2. Ciara Hickey (Galway)
3. Ciara Donohue (Galway)
4. Ashling Moloney (Cork)
5. Katie Manning (Galway)
6. Lisa Casserly (Galway)
7. Gráinne McNicholl (Derry)
8. Jennifer Hughes (Galway)
9. Emma Laverty (Antrim)
10. Joanne Casey (Cork)
11. Katie Gilchrist (Galway)
12. Aoife Minogue (Meath)
13. Dervla Cosgrove (Antrim)
14. Niamh McPeake (Galway)
15. Lauren Homan (Cork)
Most Read Stories