County final round-up
September 20, 2020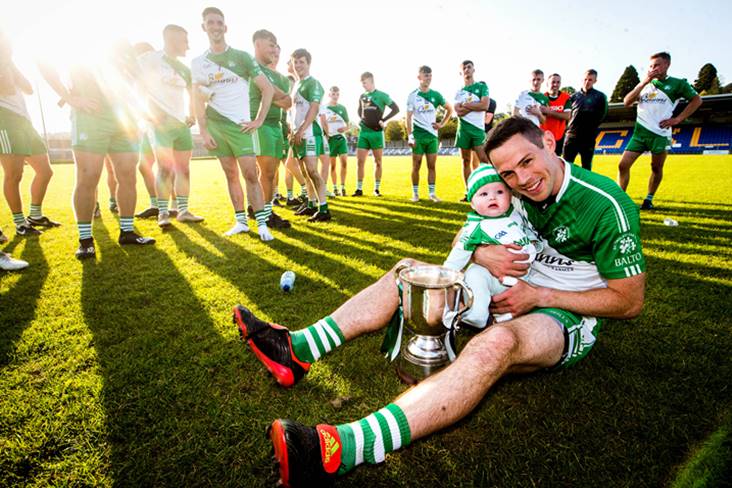 Baltinglass' John McGrath and his daughter Katie celebrate with the the Wicklow SFC trophy. ©INPHO/Ryan Byrne.
Tourlestrane created history by becoming the first team to win a five-in-a-row of Sligo SFC titles, beating Drumcliffe Rosses Point 1-14 to 1-11 at Markievicz Park.
Pat Harte natted a crucial penalty with six minutes of normal time remaining to give the Owen B Hunt Cup champions a 1-12 to 0-10 lead and the former Mayo midfielder went on to be crowned man-of-the-match. Sean Waldron hit back with a goal for DPR who lined out with Donegal All-Ireland winning goalkeeper Paul Durcan.
In Portglenone, a Ciaran Close goal for Erin's Own Cargin in extra-time was key as they completed a three-in-a-row of Antrim SFC titles following a 1-22 to 1-19 win against Creggan Kickhams. It had finished 0-16 apiece at full-time.
Baltinglass got their hands on the Wicklow SFC silverware for the first time since 2016 after battling to a 1-13 to 1-9 victory over Tinahely at Aughrim, despite losing corner-back John Murray to a red card in the closing stages.
A dominant first-half performance was just enough for a 2-12 to 1-14 Kilmoyley victory over holders Causeway in the Kerry SHC final at Austin Stack Park.
Meanwhile, at Kingspan Breffni, Philip Brady and Hugh Briody bagged Mullahoran's goals in their narrow 2-9 to 1-11 defeat of Cootehill Celtic in the Cavan SHC final.
Tourlestrane - A Broe; N Gaughan, B Walsh, C Surlis; O Kennedy (0-1), A McIntyre, K O'Hara; S Henry, P Harte (1-2, 1-0pen); C Marren (0-1), J Kelly (0-2), K Gavigan (0-1); L Gaughan (0-6, 3f), G Gaughan, J Leonard (0-1). Subs: JF Carr for C Surlis, R Kennedy for K Gavigan, J Marren for O Kennedy, R Bailey for P Harte.
Drumcliffe Rosses Point - P Durcan; S Regan, C McLoughlin, J McGarry; S Power (0-2), N Ewing, J McGowan; B Monaghan (0-1), S Waldron (1-0); C McBride, C Lally, N Canning; K Lynam (0-1), N Colleary, P Logan (0-7, 6f). Subs: A McCormack for C McBride, E Gaughan for K Lynam, M Horkan for B Monaghan, B Monaghan for S Waldron, O O'Reilly for B Monaghan.
Referee - G Chapman.
**
Erin's Own Cargin - J McNabb; K O'Boyle (0-2), J Crozier, B Laverty (0-1); D Johnston, J Laverty, E McGroggan; K McShane, M McCann (0-1); C Bradley (0-3), P Shivers (0-5, 2f), J Carron; J McGibbin (0-1), T McCann (0-7, 5f, 1m), P McCann (0-1). Subs: G McCann for E McGroggan, M Kane for D Johnston, K Close (1-1) for J Carron, M Kelly for G McCann, S O'Neill for B Laverty, M Magill for J Gribbin, M Clarke for K Close.
Creggan Kickhams - O Kerr; A Maguire, R Johnston, U McAteer; S Maguire, M Johnston, J McCann (0-3, 1f); K Rice (0-1), Conor McCann (0-2); R McCann (0-8, 4f), K Small, F Burke; T McAteer (0-1), C Small (0-1), Conor McCann. Subs: M Rogers (0-1) for F Burke, l Quinn for T McAteer, P Cory (0-1) for S Maguire, T McCann for A Maguire, D McGuckin (0-1) for K Small, A McKeown for K Rice, O McLarnon (1-0) for U McAteer (BC).
Referee - B Toland.
**
Baltinglass - M Jackson (0-2f); J Murray (0-1), K Murphy, C Lee; P Burke (1-1), B Cullen, T Burke; M English, S Doody; S Heaslip, J Keogh (0-1f), J Kennedy (0-1); D Kelly (0-1f), A McHugh (0-4), J McGrath (0-2). Subs: J Deans for S Heaslip, P Burke for J Kennedy.
Tinahely - A Nolan; C Hatton, M Byrne, N Mulhall; K Mulhall (0-1), S Hogan (0-1), B Hickey; W Dillon, B Walsh; R Stokes (0-2f), E Darcy (0-2), C McDonald (0-1); M Ging, A Dillon (1-1), P O'Rourke. Subs: J Hedderman for B Walsh, W Quaile (0-1) for K Mulhall, J Cush for M Ging, E Byrne for W Dillon. T Darcy for P O'Rourke.
Referee - G Whelan.
**
Kilmoyley - J B O'Halloran; S Nolan, C Savage, F McCarthy; J Godley, D Fitzell, T Murnane; M Flaherty (0-1), P O'Connor (0-1); K McCarthy, D Collins (0-8, 6f, 2'65), R Collins; M O'Connor (2-2), S Maunsell, P Maunsell. Subs: J Brick for S Maunsell, D Nolan for R Collins.
Causeway - T Flynn; T Barrett, M Delaney, S Sheehan; E Murphy, J Diggins, A Fealy; J Diggins (0-1), K Carmody (0-1); T Casey, B Murphy, C Harty (0-2); G Dooley, B Lyons (0-2, 1f, 1'65), D Goggin (0-2). Subs: B Barrett (1-3, 0-2f) for T Casey, S Leahy (0-3) for G Dooley, G Mahoney for B Lyons, T Casey for D Goggin.
Referee - D O'Callaghan.
Most Read Stories