Allianz FL Divisions are totally unbalanced judged on last year's final positions
April 29, 2021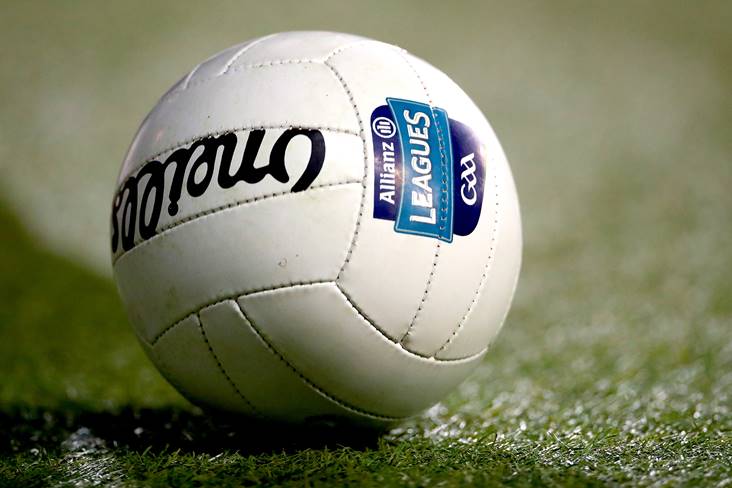 The Allianz football leagues
Are the North and South regional divisions in the Allianz FL totally skewed? It looks like it.
Next month's Allianz FL sees all four Divisions split into two regional groups - North and South. Instead of an eight team Division 1, we have Division 1 North and Division 1 South which both contain four counties.
While the regional split may reduce travel which is deemed important during the current Covid pandemic, it has had the effect of creating strong and weak groups in the same Divisions. This becomes evident when last year's final placings are taken into consideration.
And it is not that some divisions are just slightly unfair, the fact is that all four divisions are hugely unbalanced when you look at where teams finished in the 2020 Allianz FL.
We will start in Division 1 to explain how It is a simple process to weigh up the merit of Division 1 North against Division 1 South.
Division 1FL
Last year's final league table is as below.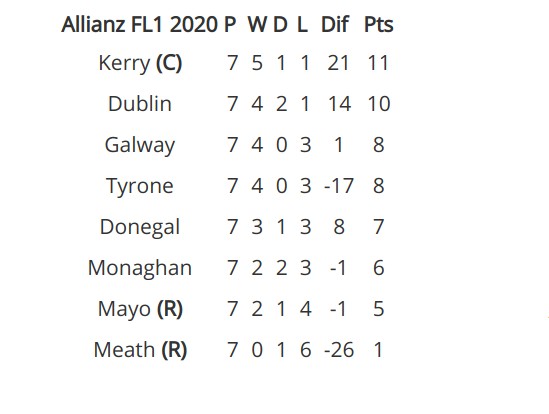 We award each county a score based on where they finished in 2020. The higher up the table you finished last year, the higher the ranking points you get.
The ranking score for each county from top to bottom is - Kerry (8 points), Dublin (7), Galway (6), Tyrone (5), Donegal (4), and Monaghan (3). Mayo and Meath move to Division 2 where they will be rated as the top two counties. Roscommon (2) and Armagh (1) take their places in Division 1.
All the teams in 2021 Division 1 have a ranking score from 8 to 1 based on where they finished in the table last year.
Now we can calculate the merit of Division 1 North - Tyrone (5 points), Donegal (4), Monaghan (3) and Armagh (1) - against Division 1 South - Kerry (8), Dublin (7), Galway (6) and Roscommon (2).
Division 1 North has a ranking of 13 points against Division 1 South having a much higher value of 23 points.
In layman's terms it is obvious that Division 1 South is stronger. It contains the top three teams from Division 1 last year plus the winner of Division 2. Division 2 South contains the bottom three teams that stayed in Division 1 last year plus the Division 2 runner-up.
Using the same ranking system we can compare the strengths of the other three divisions as well.
Division 2FL
Division 2 North - Mayo (8 points), Meath (7), Westmeath (5) and Down (1). Total is 21 points.
Division 2 South - Kildare (6 points), Laois (4), Clare (3) and Cork (2). Total is 15 points.
Again comparing the merit of the two divisions it is clear that Division 2 North is slightly stronger, especially as it contains the two counties that played Division 1 football last year.
Division 3FL
The top two divisions have nothing on Divisions 3 and 4, which have the most skewed groupings. The Division 3 groups in particular are made up of the four strongest and four weakest possible counties.

Division 3 North - Cavan (8 points), Fermanagh (7), Derry (6) and Longford (5). Total is 26 points.
Division 3 South - Tipperary (4 points), Offaly (3), Limerick (2) and Wicklow (1). Total is 10 points.
Looking at the two Division 3 groups, North contains the two teams that played in Division 2 last year plus the counties that finished in 3rd and 4th place in Division 3. South contains the teams that played in Division 4 in 2020 plus the 5th and 6th placed Division 3 sides.
Division 4 FL
Croke Park have put three of the four teams that finished in the bottom places last year in Division 4 South with Division 4 North containing the two teams relegated from Division 3 plus last year's 3rd and 6th placed teams.
Division 4 North - Leitrim (7 points), Louth (6), Antrim (5) and Sligo (2). Total is 20 points.
Division 4 South - Wexford (4 points), Carlow (3) and Waterford (1). Total is 8 points.

With relegation and promotion applying as normal, the unbalanced nature of the split groupings in all four divisions is going to become a major issue, especially with regards to promotion.
The top two teams in North play the top two teams in South in each division with the winners of those games promoted and progressing to a final. Similarly the bottom two teams in each group play against each other in a relegation playoff with the losers relegated.
In Division 3 the odds are stacked against the teams in the North section. One slip up could be fatal to their chances.
On the other hand one of the teams in Division 3 South could spring a surprise in a semi-final and win promotion on the back of a knockout game coming from a position of advantage.
There has been very little discussion of the league groupings up until now, but expect the chatter to increase as the competition gets up and running.
Most Read Stories